LIVED QUALITY
FOR GENERATIONS
Those who really respect meat, process the entire animal. More and more butchers, fine chefs, and gourmets in search of new tastes know how to use the whole animal.
Today, this is called "nose to tail", i.e. processing an animal from head to toe. Artisans who are masters of traditional butchery and know how to handle almost forgotten delicacies practice it. This requires local quality, there is no other way.
The choice falls easily on the Volcano Country Pig. When it comes to tasting its meat in all imaginable, carefully prepared variants, you don't have to look far in the region. You'd turn to Rinner's butcher shop in Graz with pleasure.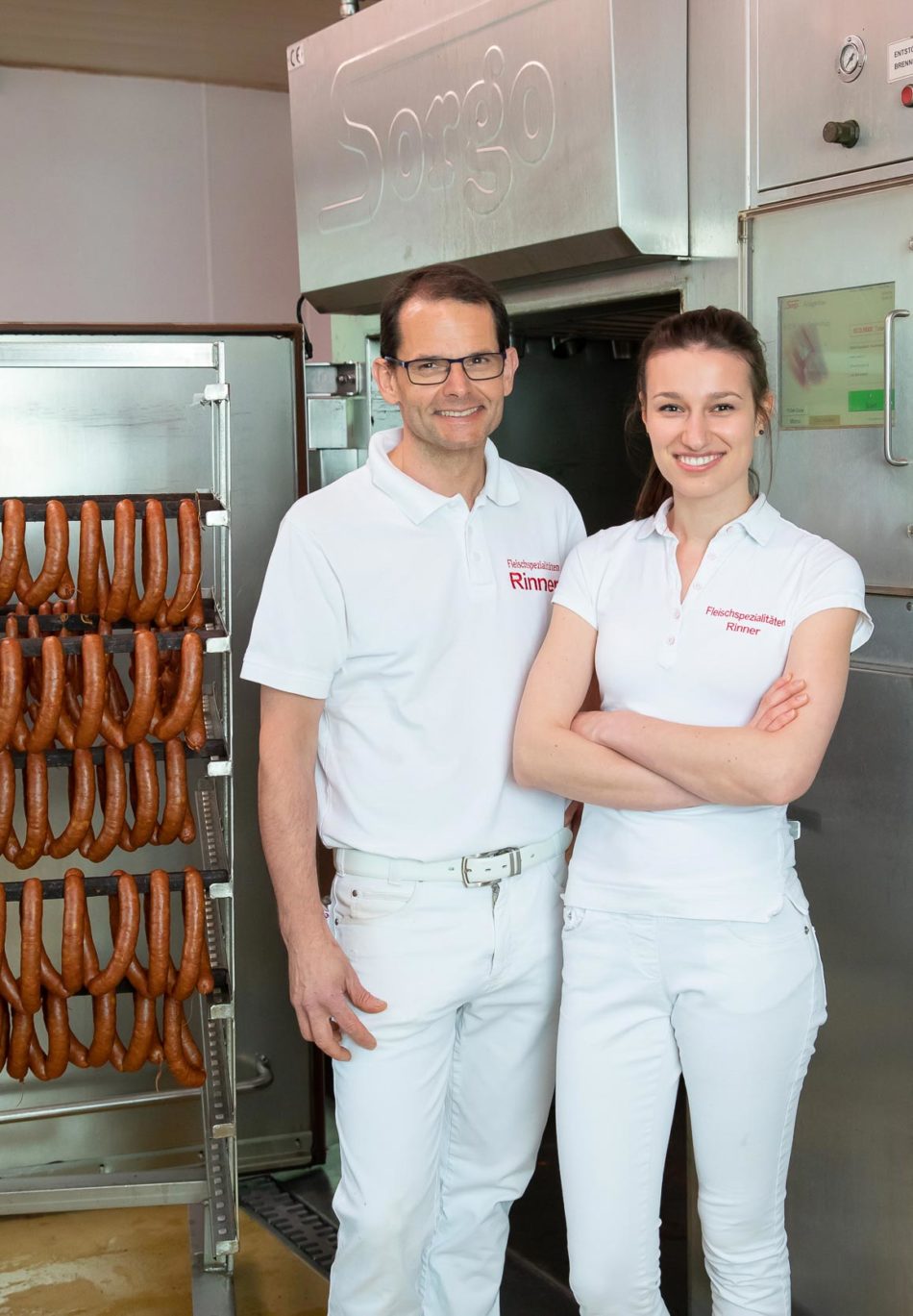 A good bit of quality in every piece.
The sun slowly wakes, the shutters go up. For Rinner's butcher shop at the Kaiser-Josef-Market the working day starts. Everything has been prepared between the previous evening and today's opening hour. Customers immediately gather around the well-stocked counter and place their requests - until everything is gone. It's like this almost every day, and has been since 1920, because the family business is already in its 5th generation.
Rinners' stand is located on the market square. That is a tradition. However, their counter takes a stand for quality as well as traceable origin of meat and sausage products. For this, the butchery and the family are as well-known as they are popular. A variety of products here is made from the Vulkanlandschwein: the noble fresh meat, the fine bacon, the tender smoked parts, the simple ham. Everything is produced by the Rinners themselves, every cut has been practiced over years. Rinner's butcher shop cares a lot about its traditional craft. They serve not just the classics, but always new things to try.
One of them is "nose to tail," the complete processing and preparation of all parts of an animal into edible meat. From head to hoof we'd say. For experienced butchers, this is actually nothing new. For the tastes of their clientele, however, it usually is - as it may be a bit challenging for today's eating habits.
For traditional meat and sausage products from the master butcher, quality of the entire animal is essential.
Especially in Austria it's been more of a tradition to eat the complete animal, this way not only consuming but also respecting it. There's no reason to worry when considering eating the feet, skin or head of a pig, provided the quality is right. In the case of the Vulkanlandschwein, of course it is.
When buying at Rinner's shop they provide recommendations for hobby cooks with pleasure. If you feel a bit uncertain about preparing rather uncommon pieces of meat, you can of course order all the other, more familiar parts from the product range of Stall 9 at the Kaiser-Josef-Markt in Graz. From filet to a variety of meat, everything from the Volcano Country Pig is available here.