DRY AGED LOIN
from the Vulkanlandschwein

Only exceptional pieces of meat are apt for dry aging! These are hand-selected by us and age on the bone for at least 8 days under strictly controlled conditions – this is the only way to create the distinctive taste.
The most important criterion for selection is the ratio of meat to bacon. This guarantees the fine marbling of the meat. The bacon on the surface protects the meat and ensures a delicate aroma. According to your taste, it can also be removed before serving.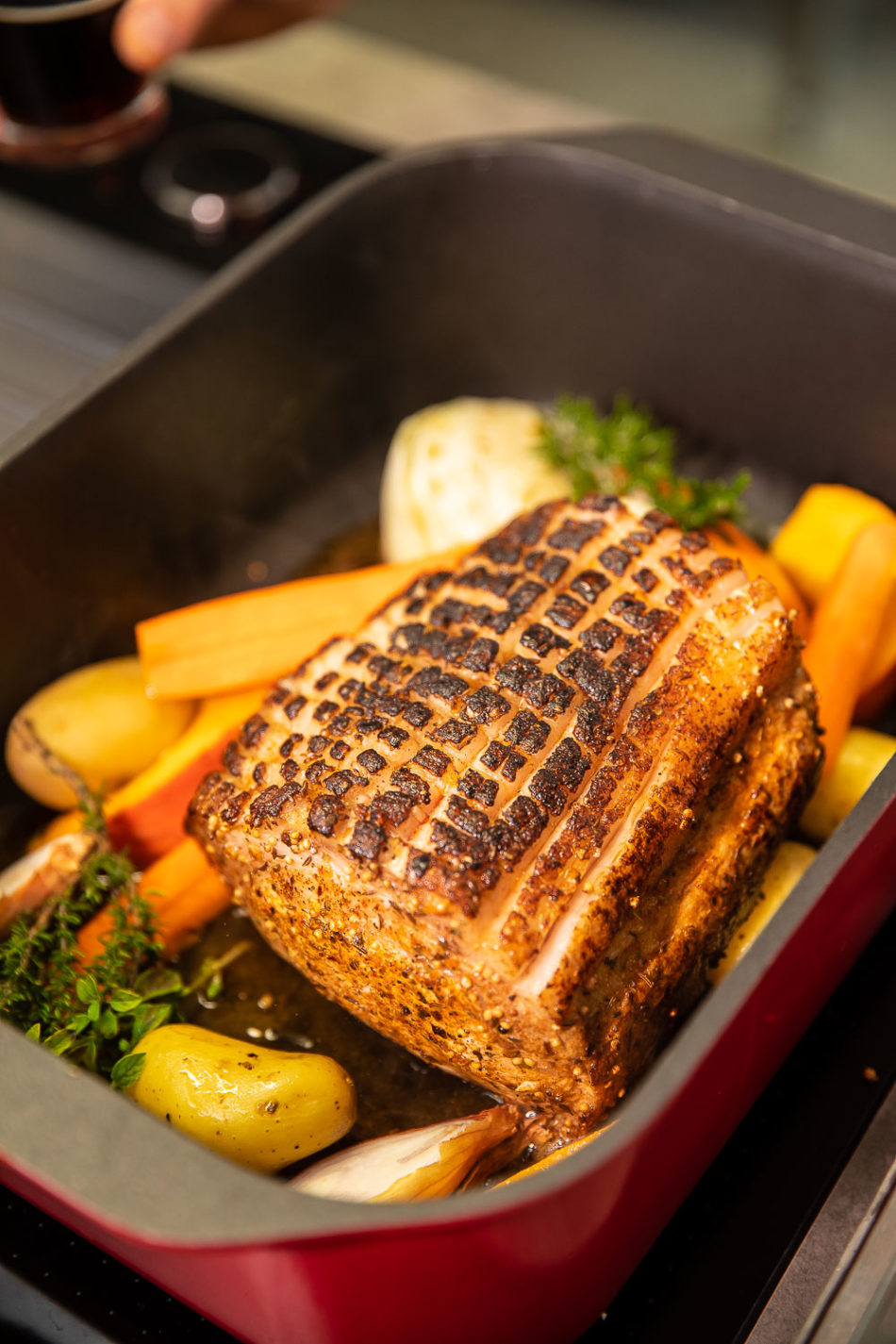 DRY AGED FESTIVE ROAST
Cut cube-like squares in the fat layer of the meat and massage in the rub.
On the bacon layer, sear the roast slowly at first to render the fat. Now sear the loin on the remaining sides.
Finally, add the shallots, garlic, vegetables and halved potatoes. Drizzle with honey and deglaze with beer. Then roast in the oven at 120 degrees Celsius (circulating heat) for about 1.5 hours. Place the square on the rack in the upper rail and place the baking tray underneath as a container for the dripping fat and gravy. As soon as the core temperature is between 60 and 61 degrees Celsius, the roast is ready. Let the roast rest for about 5 minutes. Then slice the meat and serve with the vegetables and potatoes.
For this dish, roast the whole piece of meat, the rest may later be served as a "porki tonnato" (Mediterranean starter).
FOR THE ROST PORK
Approx. 2 kg dry aged loin of pork,
from the front part towards the crest
2-3 shallots
½ garlic bulb
1 sprig of thyme, rosemary, marjoram
200 g dark beer
2 tbsp honey
FOR THE RUB
5 tbsp crystal salt or flake salt
1 tbsp garlic flakes
1 tbsp mustard seeds
½ tbsp each of paprika powder, marjoram, caraway
1 teaspoon crushed pepper
FOR THE SIDE
2 peeled carrots & yellow beets
½ celeriac, roughly cut
4 wedges of white cabbage
300 g potatoes (smaller ones)