At the grill, all chefs have their own methods and preferences. What welds them together: Glowing passion for regional quality in the barbecue season. At Höfler's butcher shop in Gleisdorf, not only the grate is always hot, but also the trends in barbecue technique.
First things first: Only real quality makes it onto the grill. Whether spare ribs, chops, "Fledermaus" (a special cut with its shape reminding of a bat) or the Spanish Secreto, the "Wagyu of the pig" – there are no insider tips here at Höfler's, everything is explained clearly and accurately.
Food and fire have always had their rendezvous at the grill, yet they have something in common: you'd better not play with them. So in order to get real highlights from the grate, you should stop by the expert, Jürgen Höfler, to make sure you are ready for the challenge.
He shared some of his grill tips for us in a video clip.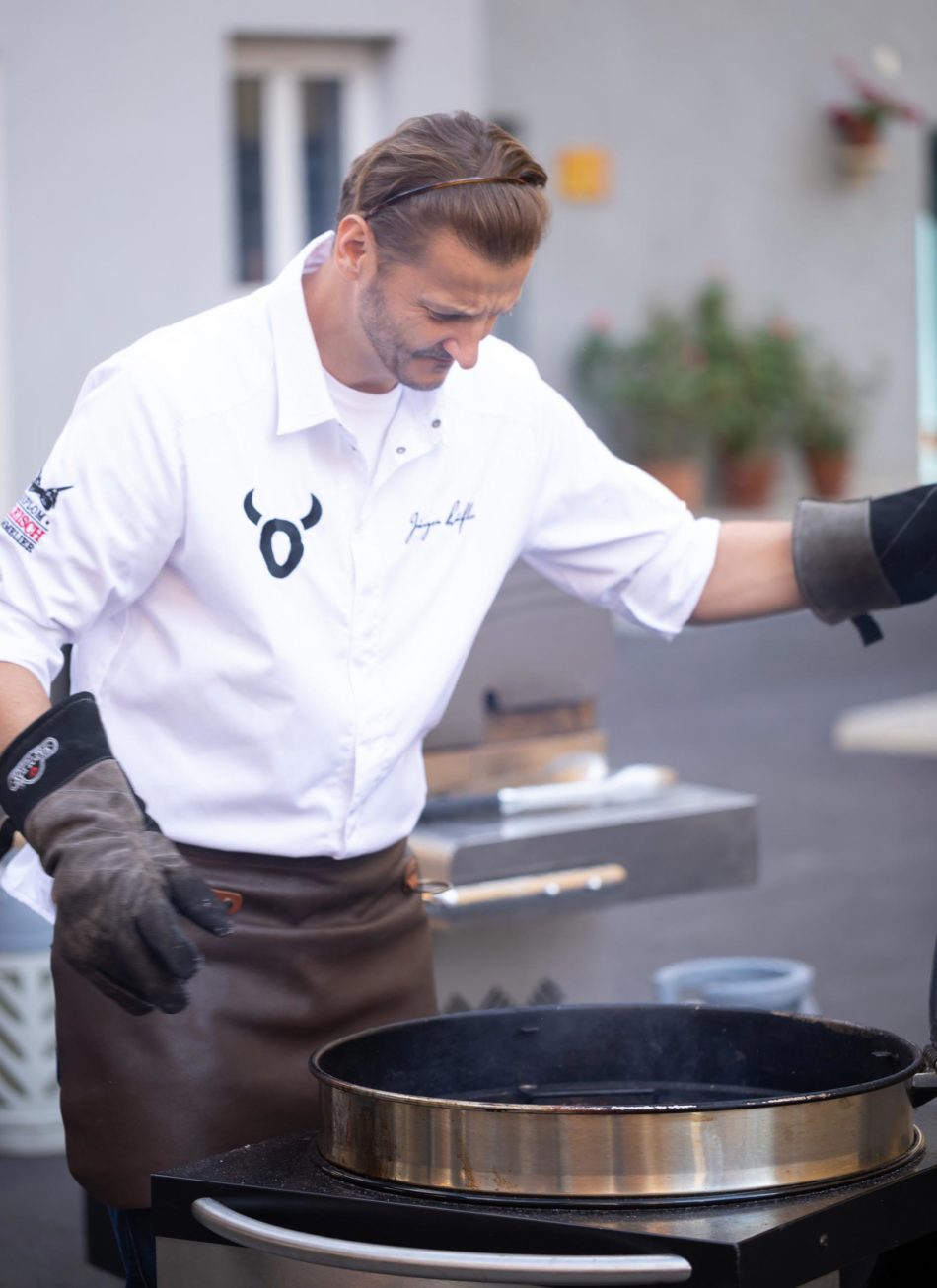 True barbecue masters burn for Vulkanlandschwein.
Man puts meat in the fire. As simple as the story is, as fiery is our passion for it. Barbecue experts like Jürgen Höfler from Gleisdorf ensure that the passion has not burned up in the meantime.
His family has owned the butcher shop in town for 55 years. They sell not only their great meat products, but also regionalism. That's what is behind it, or rather in it. Höfler knows all about barbecue trends, many of which he has set himself. However, for him it's not about the foodie hype all around, it's about the meat itself. He has been offering barbecue and steak courses for seven years, in which he passes on his knowledge. They are real shows for committed carnivores. During the courses, meat is cut together, sausages are made, at the end everything is grilled and tasted with the participants. In addition, the best techniques from Austria and around the world are explained.
Kurze Transportwege, regionale Qualität und eine persönliche Partnerschaft:
das Vulkanlandschwein hat Mehrwert.



The butcher shop knows his needs, offers short transport routes and can respond to any special requests. "More and more customers ask where their meat comes from. Then I tell them, from a max. 40km distance. And I know the farmers, too," Höfler says. He is happy with the quality he is offered here. Because if it didn't match the expectations, he would hear from his customers in the shop the very next day. He prefers attentively taking care of the orders and questions of all meat aficionados. By the way, Höfler's recommendations for the barbecue season are: the tender "Fledermaus", which is also his personal favorite, and three Spanish cuts of crested pork: presa, pluma and secreto. Of course, all from the Volcano Country Pig.